Discover more from Jing Conan's Newsletter
The guide you need in the ocean of information
Conan's Newsletter No. 10
Tripartite Productivity System; How to debug remote work; Sharing from CircleUp CEO and Okta CEO. Awesome visualization of the Gartner Hype Cycle; Pluto 1994 | 2018; View rocket launches from space.
Tripartite Productivity System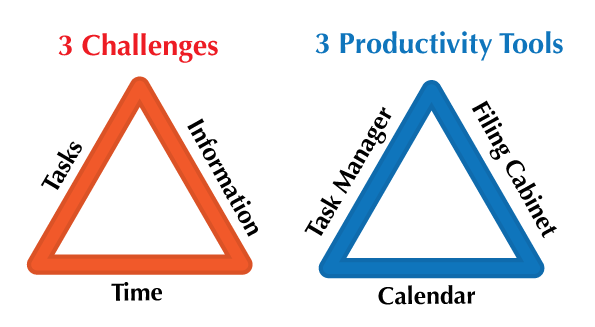 The three challenges of modern work life. Credit: http://www.markwk.com/productive-calendar-usage.html
A good framework for managing your time is important for personal productivity. One interesting framework is the Tripartite Productivity System. The key is to handle three challenges: managing information, managing tasks, and managing time.
Information: We need a place to retrieve information, to process them, and to store the distilled knowledge. Generally, any document processing or note-taking software (i.e., "Filing Cabinets") should work.

Task: This is to track the context of each task to allow attention to be focused on taking action instead of recalling contexts. There are plenty of tools for this. I personally use Trello as a personal Kanban system.

Time: We should align our day-to-day tasks to a larger picture by tracking and reviewing our time usage.

Tracking: We could use any time-tracking or calendar app to track times. I generally use Google Calendar and export my events to a spreadsheet to be reviewed manually. Besides, This is a good article that describes more tips on using Calendar as a self-tracking tool.

Reviewing: It is also important to do a weekly review during which you could reflect on what you have done well and what could be improved in the past week.
Remote Team
How to debug remote work, as suggested by new research. With the pandemic, a lot of startups have to operate in the full-remote mode for an extended period of time. This great article by Atlassian summarizes the ways that could improve the productivity of WFH teams. Here are several highlights from the article:
We have an opportunity to embrace the fact that hours worked (or cold-calls made, or lines of code written) was never a meaningful performance metric in the first place. Now is an ideal moment to shift our attention away from outputs of effort and focus on outcomes achieved instead.

Employee motivation is much more critical in the WFH setting. You have to make sure employees have intrinsic motivations in order for them to keep staying focused and delivering results. This is also where innovation would come.

Handle the inequality caused by working from home. Different people have different expectations of working from home. Adjust accordingly. 1) Household complexity. 2) Role complexity 3) Network quality.

WFH removes the isolation between work and life and causes a lot of extra challenges. Be mindful of the different situations employees need to face at home and make sure it doesn't create systematic inequality.
Entrepreneurship
In this blog, the former CircleUp CEO Ryan shared his journey of creating the CircleUp and his decision to step down as CEO of the company. This is a super honest reflection with a lot of details. A good read for anyone who is curious about the startup world.

In this tweet, the Okta CEO Todd shared his decision framework. One interesting thing about Todd is that he wrote a pitch deck for his wife when he decided to leave a senior executive position of Salesforce to co-found Okta.
Interesting Facts
The following video is an awesome visualization of the Gartner Hype Cycle of technologies in the past 25 years. This is a great way to see how technology has evolved in the past two and a half decades
The following tweet shows the tremendous progress we have made to learn our solar system in the past three decades.
This tweet shows what a Rocket launch looks like from space. Hope that it won't be too long before we could trip by rockets could be as normal as flights nowadays.